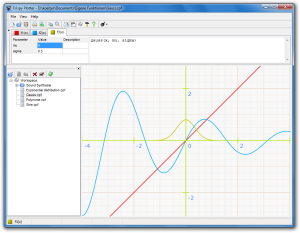 About Crispy Plotter
Crispy Plotter is a software utility to display graphs of mathematical functions. It features a simple, easy-to-use interface and excellent plotting speed. Function equations can be composed of numerous built-in functions and parameters can be used and modified easily. Created function graphs can either printed or exported to different image formats. Check out more features.
Crispy Plotter is free software (Free as in "freedom", not as in "free beer"). It is released under the terms of the GNU General Public License as published by the Free Software Foundation. You are welcome to contribute to the ongoing development process.